Web Order Approval at Performance Health
Once you've created a Performance Health website account and read about a few key features, you're ready to learn about our web order approval feature designed to help you control what orders get placed.
What is web order approval?
Web Order Approval, also known as WOA, are settings that define if an order can be processed after it's been placed by a Company User.
Why should you use web order approval?
Web order approval gives the Company Admin control over what orders get placed.
This eliminates:
Accidental orders
Repeat orders
Orders that aren't authorized or need prior approval
And helps:
Provide spending oversight
Centralize ordering for multiple facilities
Ensure orders contain your facilities' preferred products
Add Other Users to Your Account
The Company Admin can approve web orders for other Company Users. To add Company Users to an existing Company Account, there are two options.
Option 1: Add Users as the Company Admin
The Company Admin can add other users under the company account.
Click the "My Account" icon in the upper right corner, then click "User Admin"
Click the "Add New User" button
Fill out the basic account information
Click the "I Understand" button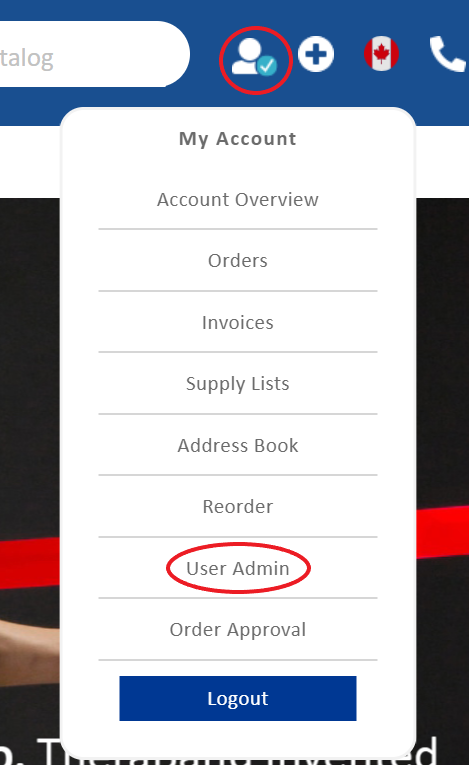 Option 2: Allow Users to Add Themselves
You can also allow other users to add themselves under an existing account.
The user must click the "My Account" icon and then click "Create an Account" in the upper right hand corner of the screen.
Click yes, they are registering as a business or organization.
Click yes, their business as an existing account at Performance Health.
Fill out a simple form that includes the existing billing account number (supplied by the Company Admin). It's important to make sure the accounts are linked for billing purposes and to use the WOA feature.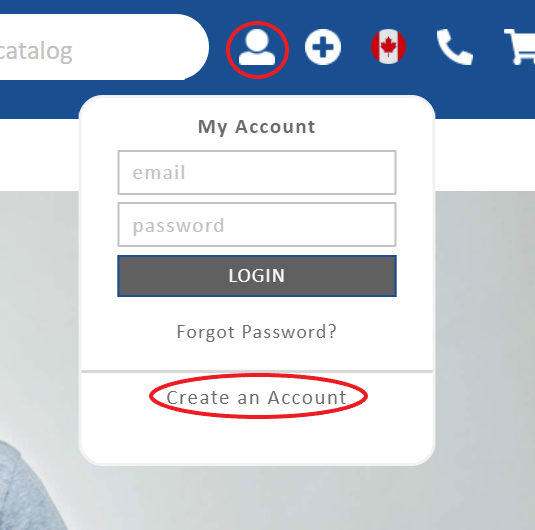 How to Use Web Order Approval (WOA)
Approve/Reject Orders
When you have multiple locations and multiple people placing orders it can be hard to keep track of your various orders. With WOA, the Company Admin can review orders before they process and approve or reject them. This is done by clicking the My Account icon at the top right of any page and then clicking "Order Approval".
Restriction Settings
There are a variety of add to cart restriction settings that the Company Admin can apply. To access these settings, click the My Account icon, then click "Order Approval", under the Restrictions section click "Restriction Settings".
These settings include:
Price Thresholds
Web order approval allows the Company Admin to set a specific upper or lower limit price threshold for the order total or for individual products. For example, the Admin can set a threshold so orders over $1,000 will be held for approval. Or if the Admin doesn't want other users to place single product orders over $200 without approval, this can be set as a product unit price limit. Any unique products over $200 will cause the order to be held until the Company Admin gives approval.
Supply Lists
The Company Admin can also create "Approved Supply Lists". These lists can be used to let other users know what products they are permitted to buy. Everyone in your company can see an Approved Supply List, but only the Company Admin can edit the list.
Supply Lists make it easy to reorder the products that you use frequently. You can learn more about how to create supply lists in this article, Introducing the Performance Health Supply List.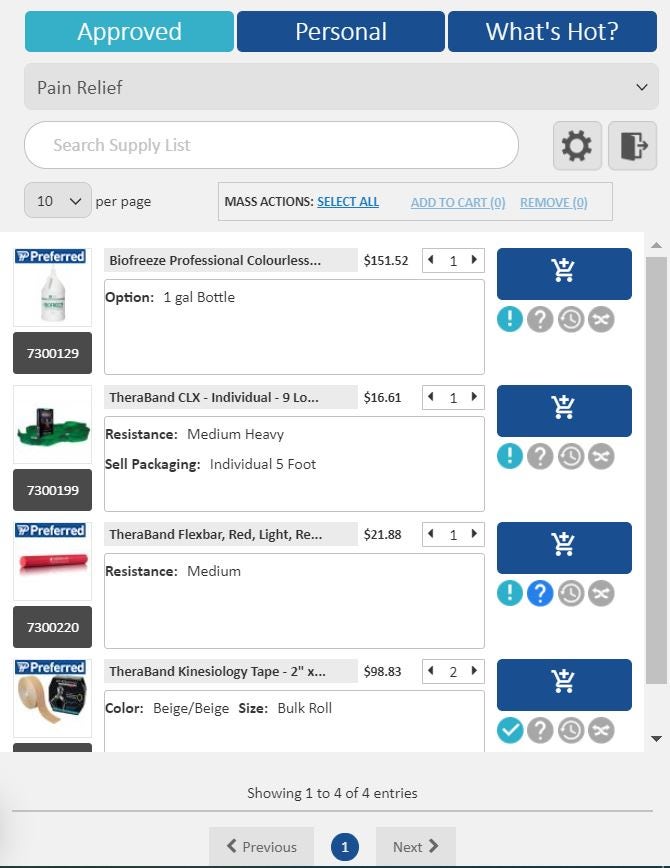 If the Company Admin turns on "Items not on Approved Supply Lists" in the Restriction Settings any orders including items that are not on the Approved Supply List will be held for approval.
Shipping
You can also turn on "Not Ground Shipping Requires Approval" in Restriction Settings. Any orders that are not being shipped via ground shipping will be held for approval.
Email Notifications
In the Restriction Settings, you can also choose to be notified via email when orders are submitted that require approval.
More Help Placing Website Orders
Find out how to create an account, find products, track orders, and view invoices in this article, Performance Health Makes Order Management Easy.
To learn more about how to use the Performance Health website to place your orders, see The Ultimate User Guide.
Contact Website Support
WebSupportGroup@Performancehealth.com
Medical Disclaimer: The information provided on this site, including text, graphics, images and other material, are for informational purposes only and are not intended to substitute for professional medical advice, diagnosis or treatment. Always seek the advice of your physician or other healthcare professional with any questions or concerns you may have regarding your condition.